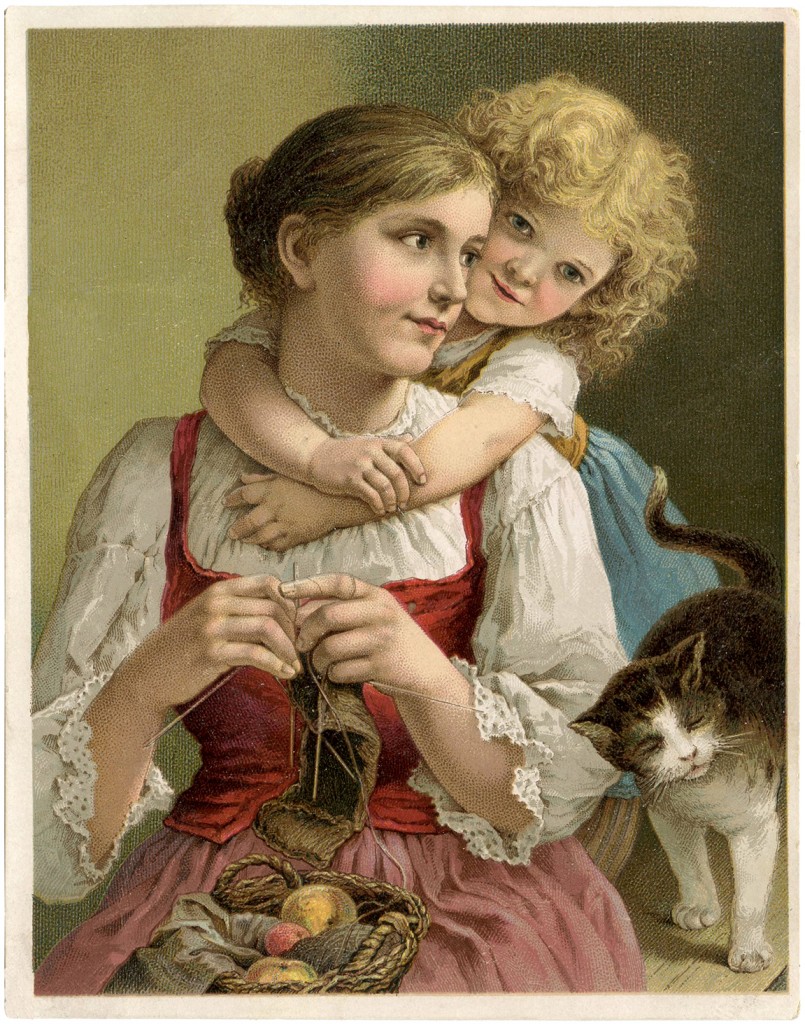 photo courtesy of thegraphicsfairy.com
I love being a mother, and I love poetry. When I found this poem about motherhood, I had to share it because it so perfectly expresses the depths of my heart . I admire a poet who can put into words something so deep, and that is both joyful and painful at the same time. I hope you will take the time to read it slowly and carefully and be touched as I am by the beauty.
THE JOY AND PAIN OF MOTHERHOOD
The fair young earth hushed all her sounds of life,
As evening gathered in the western sky,
And calmed the sportive winds that she might hear
The world's first mother's first fond lullaby.
A rapture, such as mothers share with God
By sweet melodious cadences expressed:
"My child! Part of my heart in human form--
My living thought, plucked from my throbbing breast!"
How good was God to give such balm divine
To sinning Eve bereft of Paradise!
To grant her, mourning over Eden lost,
To find new Edens in her baby's eyes.
And every mother, crooning o'er her child,
Catches the same sweet rapture from the skies,
And, though shut out of earthly Edens, finds
In mother-love, a sinless Paradise.
Each height of bliss but measures depth of woe,
And mother-joy is matched by mother-pain.
Eve's gentle heart bled o'er her sinning child,
And Mary wept o'er hers who had no stain.
Mothers alone drink Sorrow's deepest dregs.
Did God need sympathy that He should deign
To grant to woman through her mother-love,
Some comprehension of His love and pain?
Mothers alone climb Joy's most rapturous heights;
Here, too, they touch the heart of love divine.
"O Father, God, how very good thou art
To grant us joys that else were only thine!"
A partnership with God is motherhood;
What strength, what purity, what self-control,
What love, what wisdom should belong to her
Who helps God fashion an immortal soul!
~ Mary Wood-Allen
The line, "To grant to woman through her mother-love, some comprehension of His love and pain" really, truly expresses a deep truth. Motherhood is both wonderful and terrible at the same time because we are connected forever, at the heart, to another human being. We think of them every day, even when they reach adulthood. We feel their happiness and we feel their sadness. Isn't this how G-d feels about us?
When I became a grandmother, I told someone, "I now know a whole new level of love, and a whole new level of worry." My grandson, too, is in my thoughts daily.
I wonder at my own grandmother who had eleven children, and dozens of grandchildren and great-grandchildren. Three of her eight sons were alcoholics, so she must have had many cares, but I know because of her strong faith, she learned to cast those cares on her Heavenly Father. That is what I do when a worry about my children or grandson crosses my mind. I pray, "Father, I cast this care into your loving hands," and I find His peace .
The last section also impacted me. "A partnership with God". Yes, that is how I've always viewed my mother role. I desperately desired to rear my girls to be His followers. I continue to desire to be a mentor and example to them.
The attributes of motherhood listed in the last section are a tall order, but are attainable if we cling to His Spirit and His Word as a guide. He will give us His strength, purity, self-control, love and wisdom if we seek them.
I would never claim to be a perfect mother, but I continue to desire those virtues in my walk through this world, because I still have a role as a mother and a grandmother to "help fashion an immortal soul". My role will not end until I pass away, and I take it very seriously -- and with great joy.